Send to Kindle
Hiya
Some of you might have seen my post where I explained how how my daughter, Ashlee (18), won a competition from Microsoft to develop a fidget spinner app. Well if you think that was impressive, check this out…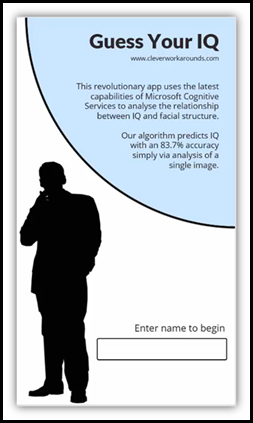 Inspired by the positive feedback from the community, Ashlee decided to up her game and investigated some of the various online services that PowerApps and Flow can connect to. The net result is an app which has capabilities that are quite extroadinary. By connecting to Microsoft Cognitive Services in Azure, Ashlee has created an app that will determine your IQ from your facial structure. In other words, you download this app, take a selfie, and via cloud-based machine learning that has processed millions of photos, you can find out your IQ without doing a traditional IQ test!
Even better, Ashlee has kindly donated it to the community as a learning tool, so you can not only learn about these ground-breaking techniques, but you can download/share it with your colleagues too.
So far this app has been used in various global organisations including Microsoft. It has also been demonstrated to rapturous applause at the recent Digital Workplace Conference in Sydney.
So DO NOT MISS OUT on this, especially when using this app is a simple set of easy-to-follow steps!
Ready… Steady…
Wait… I forgot to mention, this app is optimised for phones, and utilises Microsoft speech recognition, so be sure to turn up the volume so you can hear the instructions…
Right are you ready?
Oh… don't forget… you need an Office365 subscription for this so make sure PowerApps is enabled on your tenant…
Okay, so do the following right now!
1. Download and install PowerApps studio onto your PC.
2. Download Ashlee's Guess your IQ MSAPP (rename the file extension from .zip to .msapp) and open it in PowerApps Studio
3. In PowerApps studio, save a copy of the App to your tenant ("the cloud") via the File menu

4. Now install PowerApps on your IOS or Android Phone (you will find it in the app store and its free)
5. Run PowerApps on your phone and sign in with the same user account you used in step 3
6. Select the app called Guess Your IQ. It might take a little while to load, but don't worry – there is a lot of awesome functionality.
7. Enter your name when prompted…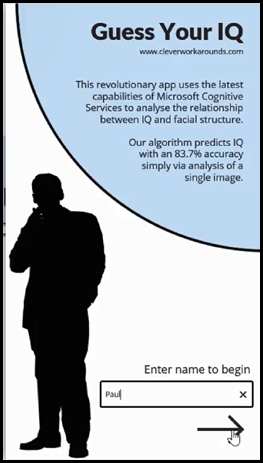 8. Now use your phone camera to take a selfie…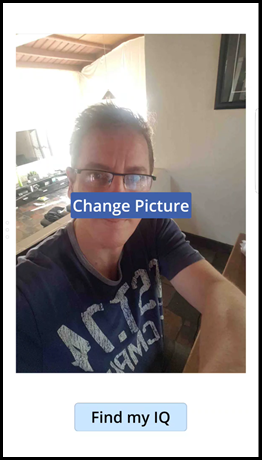 9. Click the "Find my IQ" button and watch the magic of machine learning…
10. Seriously, you WILL NOT BELEIVE what happens next!… but you have to try for yourself!
Make sure you let me know what your IQ is!

Paul Culmsee

Send to Kindle