Send to Kindle
Hi all
I think its a sure bet that many of you, for your various sins, perform "stakeholder engagement" as part of delivering solutions to your clients or organisations. I also bet that many of you would not be aware that a standard for Stakeholder Engagement has been released. It was written by the nice folks at accountability.org, an organisation dedicated to helping organisations embed accountability into their operations at an ethical, environmental, social, and governance level.
When the standard was released, I read it with some interest, and decided to see what it would look like as an IBIS based issue map. I checked with the report authors and got the okay to do so. The result can be seen by clicking the image below.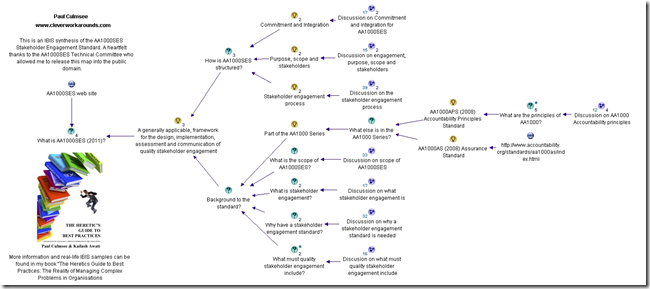 Hope you find it of interest, and that it gives you some new insights into the art of stakeholder engagement.
Thanks for reading
Paul Culmsee

Send to Kindle