Send to Kindle
Hi all
I have spent a bit of time in New Zealand over the last few years, met a lot of really interesting people and frequently get asked about conducting a Dialogue Mapping training workshop over there. I'm really happy to announce that this is finally going to happen in Auckland on May 30th. It should be a really interesting session with a mix of SharePoint people, community development practitioners and organisation development consultants.
Just to be clear, this is not a SharePoint class. I am teaching the techniques of Issue Mapping, the core technique that enables you to become a great Dialogue Mapper. The class is very activity driven and helps you acquire a hugely valuable life skill that not only equips you with a great technique for tasks like business analysis and requirements elicitation, but also allows you to get involved with more complex problem solving scenarios like strategic planning. If you enjoyed my book, the Heretics Guide to Best Practices, this course teaches you the same techniques outline there.
To sign up for the class, head on over to eventbrite. For a full breakdown of the class structure then check out the class brochure.
The workshop will be held at the following venue:
Quality Hotel Parnell
20 Gladstone Rd
Parnell, Parnell 1052
New Zealand
Thursday, May 30, 2013 at 8:30 AM – Friday, May 31, 2013 at 5:00 PM (NZST)
If you would like to see and hear more about Dialogue Mapping, then take a look at these two video's hot off the press by workshopbank.com. In the first video I speak about Dialogue mapping in general and the second is a very apt demonstration of the approach given that the next class is in New Zealand

Experiences of a practicing Dialogue Mapper
Lord of the rings IBIS style
Thanks for reading
Paul Culmsee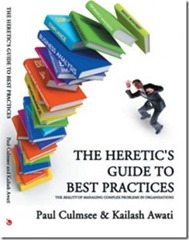 Send to Kindle