Send to Kindle
Hi all
Back on St Patricks Day in 2011, Christian Buckley and I commandeered a hotel piano in Wellington NZ and recorded an impromptu duet entitled "MOSS world" – a satirical take on many of the challenges with SharePoint back then, using a parody of the Gary Jule's version of Mad World as the musical backdrop. In case you missed the epicness of that particular collaboration, here is the video. As you will see, I am a pretty shitty piano player but nevertheless, the whole thing went down pretty well.
Now all good things take time, and three years have passed since MOSS World. But Christian has been working with me in Perth last week, so it was a foregone conclusion that we would have to flex our musical muscles once again and see if we can top MOSS World. A lot has changed since then too. We are both a little older, and my piano playing is still just as crap. But recent things like SharePoint 2013, apps model, cloud, enterprise social and server hugging IT Pros, provided us plenty of new inspiration.
So off we went to the studio (and actually it was a real studio) for another epic collaboration. The result? An album of such epic awesomeness that it could only be called "Working on it…"   Featuring an eclectic mix of ambient, metal, funk and folk rock, "Working on it…" will be a tour-de-force of sheer awesome. To get a speak peek of the how much time and effort Christian and I put into our music, we have released a behind the scenes look at the recording process, along with special previews of new songs such as "Losing my MVP", "Crazy Little Thing Called Cloud" and "Nothing Compares to the pain of a regression bug introduced by a service pack". Best of all is our self penned composition called "The Answer To All Things Social" where Christian pushes his vocal prowess to its soaring limits.
Watch, enjoy and let us know your feedback (and yes I already know my guitar playing is worse than my piano playing ) Dux Sy – the gauntlet has been thrown…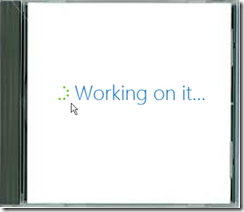 Paul Culmsee

Send to Kindle