Send to Kindle

To quote the brilliant singer Kate Bush, "wow wow wow unbelievable!"
Well, it is all over, and boy what an experience! For those of you who were not aware, I had the honour of attending as well as presenting at the San Diego SharePoint Best Practices conference. I had two topics, but I'll post a report about those in another post. This post is going to sound like one of those long acceptance speeches at the academy awards as I have to give out kudos' to all the people who I hung out with.
I sat in on as many sessions as I could, particularly the ones around requirements gathering, information architecture and strategy. It was fascinating that each person who spoke on or around this topic, such as Paul Galvin, Ruven Gotz, myself and Peter, all had varying approaches and I learned something from all of them. Some amazing talent – truly brilliant minds, wonderful speakers and great topics.
Some of the speakers – guys like Robert Bogue and Evan Burfield (above) just leave me in awe. There is not a damn thing that they say that I disagree with. Pretty much any good idea that I have had, Rob has thought of it first and developed it far, far further than I ever have. Just wait until you see his upcoming governance DVD – I've seen the mind map and holy freakin' crap!, the length and breadth of what he has put together will make it an absolute *must have*. I had been working on similar material, but after seeing how far he has taken it, trust me and just buy his DVD – I'm hoping to be a reseller :-). Forget "Sharepoint Shepherd", I humbly bow to the "Governance Godfather – Robert Bogue" (you can license that title from me Rob 🙂 )
Also Rob, if you are reading this I went looking for you at SharePint to jump on your lap and do a fanboy photo (and I was going to risk messing with your hair). Lucky for you I guess, you had left by then and my evil plan was foiled – but Joel wasn't so lucky 🙂

Mr Oleson – what can I say? I owe him a heck of a lot, as if it wasn't for him I wouldn't have been a presenter at this conference. Joel mate, you were on the phone when I came to say my heartfelt thanks for vouching for me and making this happen. I never crossed your path after that and I feel bad that I never got to. I'm going to get the SharePint photos from Ruven, although Joel, I am sure that your legal people will send me a cease and desist letter for that fanboy photo that I took with you. Mind you, I think there are other photos that you should be more worried about! But hey, what happens on tour, stays on tour right? 🙂

Ben Curry from Mindsharp – you I owe the biggest thanks of all. Conceiver of it all and the heart and soul behind this event. Visionary guy, worked his arse off, willing to risk bringing in several untried and untested relative unknowns like myself. He nailed *exactly* how a best-practice conference needs to be. Although sessions and topics were technical or development centric at times, make no mistake. This was all about headspace and critical thinking, so I was like a kid lost in a candy store.

Gary Lapointe is another person who left a big impression on me. I am well aware of his awesome capabilities and I found him a really down to earth, genuine and humble guy and I really, really wanted to have a beer with and chat to some more. I am totally buying you beers next time.

Paul Galvin. Spent the whole conference saying hello but never really crossing paths properly until the last hour or so. Loved your presentation and enjoyed your insights, regret not having more time to download your brain.
I also enjoyed hanging out with the poms, who seem to deal with satirical aussie humour a little better than the Americans. Andrew Woodward, Phill Duffy, Brett Lonsdale all were great company and good fun. Brett – I look forward to doing good things with Lightningtools and Combined Knowledge.
Then there were the metalheads. Todd Klindt was a riot and its obvious that he was put on this earth to loiter around SharePoint conferences. He had everyone near him in complete stitches. I was not aware of his metal leanings which raised his stock big-time in my book. Therefore, I have made it my personal mission to convert him to Opeth. Todd is actually a bit of a wuss when it comes to the the death vocals, so it's a little like a Microsoft guy saying they like Linux but have never used anything but Ubuntu. But rest assured, I think I can bring him around 🙂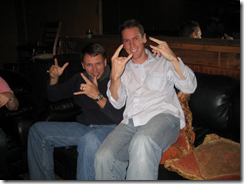 Also Mike Watson and attendees Anders Rask and Paul Kolasky demonstrated their exquisite taste in music. When pontificating various aspects of SharePoint became tiresome, the conversation seemed to turn to metal music. It's amazing how much creativity can come out of a conversation like that too. After a few beers, Anders, Mike and I had a great idea for a new educational SharePoint site, and I still kinda liked it in the cold light of day when I was sober again. But I haven't asked the other two whether they still think its a good idea or whether it was just the beer talking.
But fun and frivolity aside, what was the most satisfying (and exciting) was those moments where you discover your kindred spirits – both speakers and attendees. People who think alike, who's philosophies and outlook are absolutely aligned in the same "zone" as your own. They may address problems in different ways, and may even be in different SharePoint sub-disciplines. But you just *know* that there is something special there – it is like you all collectively "see" though the same eyes, and the whole is so much greater than the sum of the parts.
So to Ruven Gotz and Peter Serzo, it was an honour to be able to meet with you, watch your presentations and I valued the dialogue very much. Ruven for the record had the best impromptu one-liner of the entire conference. When an audience member suggested an alternative software package to what he used, he replied by saying he'd been married to his wife for 27 years and he was pretty happy with her as well – had the audience in stitches. Peter Serzo dragged a freakin' piano from the lobby to his session room at 2am and spent another hour practicing. Then the next day he presented half of his conference seated at the piano playing various ditties. Brilliant stuff.
Both of your presentations set off all sorts of light globes in my head, and set the creative juices flowing. I really believe there is the nucleus of something special there and I feel some future collaboration in the very near future.  Andrew Woodward will definitely be a part of it (although he doesn't know it yet – hehe).
So, who knows? If the feedback from my sessions is good, I might manage to wrangle an appearance at the UK one?

Send to Kindle