Send to Kindle
Hi all
There are a few people in my life who have had a big influence on me as a person, consultant and trainer. Jeff Conklin from CogNexus Institute is one of them. If I was to rank Conklin, I'd say he comes in somewhere between Jackie Chan and Freddie Mercury – illustrious company indeed. 🙂
Jeff armed me with the right set of skills and way of thinking that allowed me to defeat the likes of "SharePoint vs Skype guy", a highly skilled foe that I previously wrote about in the "One Best Practice" series of posts. As it happens, Jeff is running another of his Issue Mapping webinar based training series starting April 8 2009. Anyone who is involved in highly complex projects (whether technically or socially challenging), including managers, project leaders, consultants and facilitators should consider attending.
SharePoint people? You are dealing with technical and social challenges almost by definition. Issue Mapping is the most effective craft I have come across to:
be able to lead a group to a robust decision that endures and that inspires consistent actions and outcomes despite the cross-currents of hidden and competing agendas
get traction in the "swamp" of a project that is cursed with both technical and social complexity
have real dialogue without getting bogged down in politics, personalities or an overload of information
help a group get its bearings in the fog of confusion, contradictory objectives and changing constraints
be able to focus a group's energy in a way that boosts collective intelligence: the capacity to work with ambiguity and equivocal knowledge
be able to capture and organize a large volume of unstructured information to create a coherent foundation for thinking and learning in an organization
Consider my example below: I have summed up the entire global financial crisis in a single issue map – neat eh!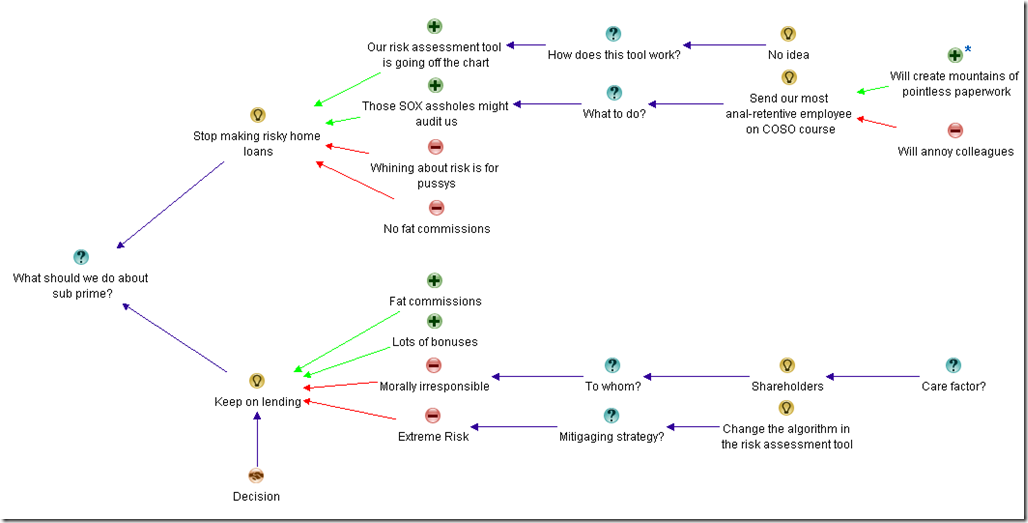 Like my above example, you will learn how to create great issue maps – maps that are clear, coherent, and expose the deep structure of an issue. (okay so I am being just a *tad* tongue in cheek with my example)
In all seriousness, it is a great course and well worth attending. If you enjoyed the "one best practice" series or my "wicked problems" sessions, this is your opportunity to learn from the master.
Thanks for reading
Paul Culmsee

Send to Kindle