Send to Kindle
It's been quite some time since I have blogged, and the months of July/August were really pretty full-on professionally. High work demands and preparation for the Best Practices Conference meant that blogging and any sort of public work really took a back-seat.
So now that it is over and I am sitting here in an airport lounge reflecting, I have one word to say about the BPC 09 in DC that I just attended.
Segways rock!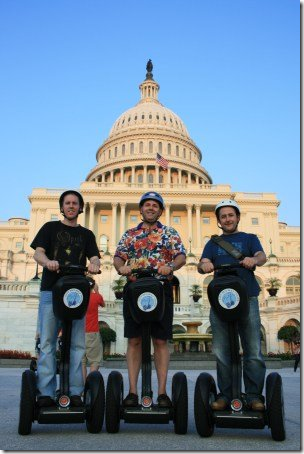 You have not lived until you have ridden a segway – and I mean the new ones where you lean to control it. Even better than riding a segway is to ride it through DC, a city that blew me away with its amazing campus-like vibe. Never before has a city really pushed my buttons like this place. As you can see above, Ruven Gotz, Andrew Woodward and I visited some of the amazing DC sights and this photo in particular of Capitol Hill behind us, looking out toward the Lincoln memorial is something I'll never forget. One thing is for sure, I am definitely coming back here for at least 2-3 weeks with the family just to absorb everything – sooner rather than later.
These best-practices events are really the conference where the material goes beyond the tech-stuff and caters additionally for an audience of consultants, business analysts, project managers and CIO's. Some sessions are completely strategic, yet some delve deep into the guts of tech. In short, there is something for everyone.
Since the San Diego event back in Feb 09, my fellow kindred spirits, Ruven Gotz, Andrew Woodward, Dux Sy and I have been collaborating to bring our respective messages together and put a cohesiveness around what we have to say. This conference was the first peek of the fruit of that collaborative effort and as far as audience feedback went, it went down really well. In my last session of the conference I had a little Jerry Springer moment, when describing a particular slide that was a part of all of our respective talks, when I asked the audience to describe the slide and they all answered in perfect unison – hehe the message was heard 🙂
I presented 3 sessions, one on my own, and two co-presented with Ruven Gotz and Peter Serzo respectively. Ruven and I have been unhappy with the current (mis)understanding of governance around SharePoint and the culmination of our efforts over the last new months was a talk called "Governance – the other 90%", although next time I will rename it to "Zen and the art of SharePoint Governance". This was an umbrella talk to introduce our concepts and thinking, and then it was followed up later in the conference by talks by Ruven, myself and Andrew Woodward. Andrew took out the best overall speaker award too for the conference and we are all super-excited by the fruits of this collaboration so far, and I *know* that bigger and better things are to come from it.
For what its worth, if you want to be "one with SharePoint governance", remember the key takeaway – beer is the best governance tool you've got. 🙂
The session with Peter Serzo was also such fun – we hit upon the idea of doing a Zoolander themed talk to introduce SQL Reporting Services to people who had not seen it. SSRS is one of those tools and technologies where even some well known SharePoint practitioners have not used it. With a title of "Reporting Services for the Really Really Good Looking", we attracted a good turnout and managed to create and publish a report in 5 minutes, explain the architecture by getting members of the audience to stand up, wear aprons and "model" the various components and show how with no code, information workers could include drill down reports as well as personalised reports via parameters and filter web parts. The very awesome Brett Lonsdale (the guru behind BDC Meta Man), interrupted proceedings, claiming that the BDC was a better option and there was only one way to settle it – he and I had to do a BDC vs SSRS "walk off" which I *of course*, won easily :-).
Brett was a great sport, and I think for a minute audience members actually thought he was serious 🙂
(Now here comes the gushing love people..)
Also this time around, I've gotten to know more people and the rare opportunity to hook up again and spend some quality time with various friends was really the thing that makes the 36hr transit from Perth worth it. From the BBQ at Dux Sy's house, to some great dialogue with Ben Curry of Mindsharp, Judy Cowan of Microsoft, Evan Burfield and the Synteractive people and my SamePage amigo's (Dux, Ruven and Andrew Woodward). Ben Curry is an out and out genius, and our CV's seem to read from the same script and I wish I had more opportunity to work with him. Evan Burfield is so scary smart that he automatically become my hero with his amazing understanding of stuff that I am interested in, yet only scratching the surface of the surface 🙂
Special callout to Laura Rogers (aka @wonderlaura). I had to look up what a muse was after she told me I was hers (I am a little sheltered over in Perth 🙂 ). Love her work – in fact, it is *her* work at endusersharepoint.com that inspired me to get back into more end-user content and try this whole screencasting thing. Laura, we are going to have to do something on EUSP together if you'd be up for it – it was a lot of fun hanging out and I think Peter Serzo would be up for something fun as well.
To the people who sat around the bar/restaurant/lobby table and supplied great laughs and great conversation. Zlatan Dzinic is utterly brilliant but is genetically programmed to be unable to whisper in someone else's session 🙂 ). Mike Ferarra from SharePointReviews.com, Dan Usher, Lori Gowin, Ben Curry for messing with my head constantly, Paul Kolasky (the self-confessed poster boy for wicked problems who Laura eventually discovered *is* harmless 🙂 ) and special mention to Paul Stork – who was labelled as "that nerd who always has to jump ahead" during the Zoolander session.
Final thanks – Peter Serzo and his wife, Stacey. Peter is the most "Australian Amercian" who I have ever met. I think he must have been an Aussie in a former life. He is a tireless worker who's imagination and inventiveness always sets off sparks of inspiration for me. I am going to try and find a way to get him over to Perth for a local training workshop or user group thing – they'd love his sense of humour.
Sorry if I missed anybody, I apologise. Also, please send me any photos, as many were taken, but I really was quite unsure about who's camera was clicking at the time 🙂
Thanks for reading
Paul Culmsee

Send to Kindle