Send to Kindle
Note: For those of you who do not wish to read my usual verbose writing, then skip to the last section where there is a free web part to download and try out.
Unless you are a complete SharePoint nerd and world events don't interest you while you spend your hours in a darkened room playing with the SP2010 beta, you would no doubt be aware that one of the most significant collaborative events in the world is currently taking place.
The United Nations climate change conference in Copenhagen this month is one of the most important world gatherings of our time. You might wonder why, as a SharePoint centric blog, I am writing about this. The simple answer is that this conference in which the world will come together to negotiate and agree on one of the toughest wicked problems of our time. How to tackle international climate change in a coordinated global way. As I write this, things do not seem to be going so well :-(.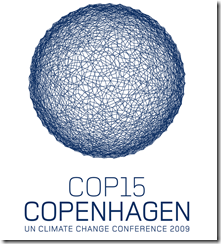 Climate change cuts to the heart of the wellbeing expected by every one of us. Whether you live in an affluent country or a developing nation, the stakes are high and the issues at hand are incredibly complex and tightly intertwined. It might all seem far away and out of sight/out of mind, but it is clear that we will all be affected by the outcomes for better and worse. The spectre of the diminishing window of opportunity to deal with this issue means that an unprecedented scale of international cooperation will be required to produce an outcome that can satisfy all stakeholders in an environmentally, economically and social bottom line.
Can it be done? For readers who are practitioners of SharePoint solutions, you should have an appreciation of the difficulty that a supposedly "collaborative tool" actually is to improve collaboration. Therefore, I want you to imagine your most difficult, dysfunctional project that you have ever encountered and just try and now multiply it by a million, gazzilion times. If there are ever lessons to be learned about effective collaboration among a large, diverse group on a hugely difficult issue, then surely it is this issue and this event.
Our contribution
My colleagues and I became interested in sense-making and collaboration on wicked problems some time back, and through the craft of Dialogue Mapping, we have had the opportunity to help diverse groups successfully work through some very challenging local issues. I need to make it clear that much of what we do in this area is far beyond SharePoint in terms of project difficulty, and in fact we often deal with non IT projects and problems that have significant social complexity.
Working with people like city planners, organisational psychologists, environmental scientists and community leaders to name a few, has rubbed off on myself and my colleagues. Through the sense-making process that we practice with these groups, we have started to see a glimpse of the world through their eyes. For me in particular, it has challenged my values, social conscience and changed the entire trajectory of where I thought my career would go. I feel that the experience has made me a much better practitioner of collaborative tools like SharePoint and I am a textbook case of the the notion that the key to improving in your own discipline, is to learn from people outside of it.
We have now become part of a global sense-making community, much like the global SharePoint community in a way. A group of diverse people that come together via common interest. To that end, my colleague at Seven Sigma, Chris Tomich has embarked on a wonderful initiative that I hope you may find of interest. He has enlisted the help of several world renowned sense-makers, such as Jeff Conklin of Cognexus and David Price of Debategraph, and created a site, http://www.copenhagensummitmap.org/, where we will attempt to create a global issue map of the various sessions and talks at the Copenhagen summit. The aim of this exercise is to try and help interested people cut through the fog of issues and understand the points of view of the participants. We are utilising IBIS, the grammar behind dialogue mapping, and the DebateGraph tool for the shared display.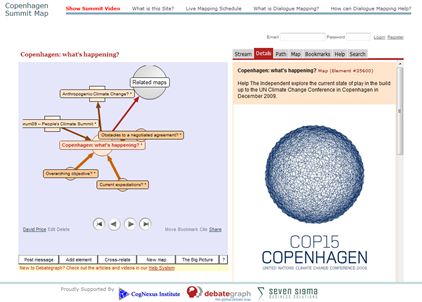 How you can help
If you feel that issue mapping is for you, then I encourage you to sign up to Debategraph and help contribute to the Copenhagen debate by mapping the dialogue of the online sessions (which you can view from the site).
Otherwise, Chris has written a simple, free web part, specifically for Copenhagen which can be downloaded "Mapping tools" section of the Copenhagen site. The idea is that if you or your organisation wish to keep up with the latest information from the conference, then installing this web part onto your site, will allow all of your staff to see the Copenhagen debate unfold live via your SharePoint portal. Given that SharePoint is particularly powerful at surfacing data for business intelligence, think of this web part as a means to display global intelligence (or lack thereof, depending on your political view 🙂 ).
Installing is the usual process for a SharePoint solution file. Add the solution to central admin, deploy it to your web application of choice and then activate the site collection scoped feature called "Seven Sigma Debategraph Components". The web part will be then available to add to a page layout or web part page.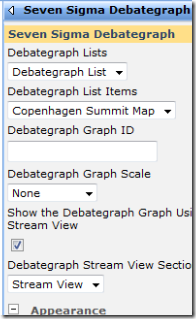 The properties of this web part allow you some fine grained control over how the Debategraph map renders inside SharePoint. The default is to show the Debategraph stream view, which is a twitter style view of the recent updates as shown in the example below.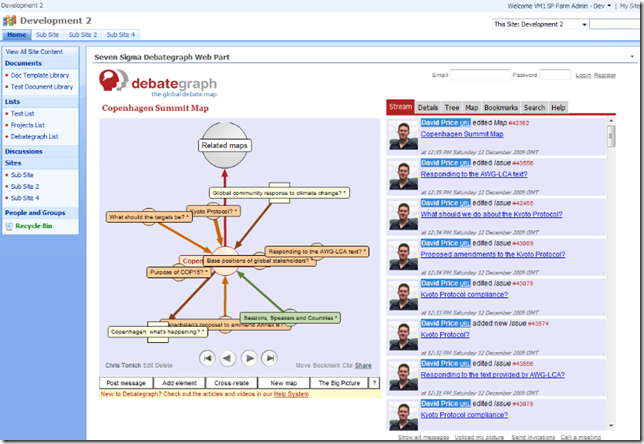 Stream view is not the only view available. Detail view is also very useful for rationale that has supplementary information, as shown in the example below.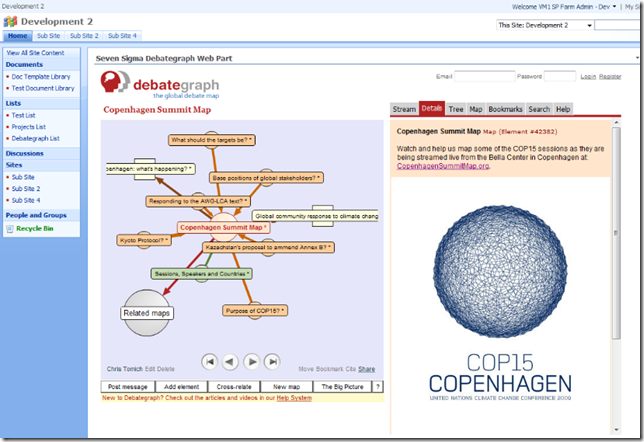 By the way, you can use this web part to display any Debategraph debate – not just Copenhagen. The Debategraph map to display is also controlled via the web part properties.
For information on how to change the default map, then check out this webcast I recorded for the previous version here.
I hope that some of you find this web part of use and look forward to any feedback.
Kind regards
Paul Culmsee

Send to Kindle