Send to Kindle
About bloody time eh?
The Heretics Guide to Best Practices is now available through Amazon, Barnes and Noble and iUniverse.
]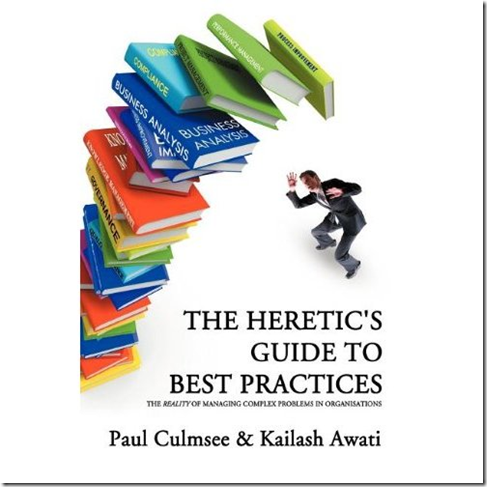 In Paul and Kailash I have found kindred spirits who understand how messed up most organizations are, and how urgent it is that organizations discover what Buddhists call 'expedient means'—not more 'best practices' or better change management for the enterprise, but transparent methods and theories that are simple to learn and apply, and that foster organizational intelligence as a natural expression of individual intelligence. This book is a bold step forward on that path, and it has the wonderful quality, like a walk at dawn through a beautiful park, of presenting profound insights with humor, precision, and clarity."
—Jeff Conklin, Director, Cognexus Institute
"Hugely enjoyable, deeply reflective, and intensely practical. This book is about weaving human artistry and improvisation, with appropriate methods and technologies, in order to pool collective intelligence and wisdom under pressure."
—Simon Buckingham Shum, Knowledge Media Institute, The Open University, UK.
"This is a terrific piece of work: important, insightful, and very entertaining. Culmsee and Awati have produced a refreshing take on the problems that plague organisations, the problems that plague attempts to fix organisations, and what can be done to make things better. If you're trying to deal with wicked problems in your organisation, then drop everything and read this book."
—Tim Van Gelder, Principal Consultant, Austhink Consulting
"This book has been a brilliantly fun read. Paul and Kailash interweave forty years of management theory using entertaining and engaging personal stories. These guys know their stuff and demonstrate how it can be used via real world examples. As a long time blogger, lecturer and consultant/practitioner I have always been served well by contrarian approaches, and have sought stories and case studies to understand the reasons why my methods have worked. This book has helped me understand why I have been effective in dealing with complex business problems. Moreover, it has encouraged me to delve into the foundations of various management practices and thus further extend my professional skills."
—Craig Brown, Director, Evaluator

Send to Kindle