Send to Kindle
Like it or not, there is a tectonic shift going on in the IT industry right now, driven primarily by the availability of a huge variety of services hosted in the cloud. Over the last few years, organisations are increasingly procuring services that are not hosted locally, much to the chagrin of many an server hugging IT guy who understandably, sees various risks with entrusting your fate to someone else.
We all know that Microsoft had a big focus on trying to reach feature parity between on-premises SharePoint 2013 and Office365. In other words, with cloud computing as a centrepiece of their strategy, Microsoft's SharePoint 2013 aim was for stuff that both works on premises, but also also works on Office 365 without too much modification. While SharePoint 2013 made significant inroads into meeting this goal (apps model developers might beg to differ), the big theme to really emerge was that feature parity was a relatively small part of the puzzle. What has happened since the release of SharePoint 2013, is that many organisations are much more interested in hybrid scenarios. That is, utilising on-premises SharePoint along with cloud hosted SharePoint and its associated capabilities like OneDrive and Office Web Applications.
So while it is great that SharePoint online can do the same things as on-prem, it all amounts to naught if they cannot integrate well together. Without decent integration, we are left with a lot of manual work to maintain what is effectively two separate SharePoint farms and we all know what excessive manual maintenance brings over time…
Microsoft to their credit have been quick to recognise that hybrid is where the real action is at, and have been addressing this emerging need with a ton of published material, as well as adding new hybrid functionality with service packs and related updates. But if you have read the material, you can attest that there is a lot of it and it spans many topic areas (authentication alone is a complex area in itself). In fact, the sheer volume and pace of material released by Microsoft show that hybrid is a huge and very complex topic, which begs a really critical question…
Where are we now at with hybrid? Is it a solid enough value proposition for organisations?
This is a question that a) I might be able to help you answer and b) you can probably help me answer…
Visualising complex topics…
A few months back, I started issue mapping all of the material I could get my hands on related to hybrid SharePoint deployments. If you are not aware, Issue mapping is a way of visualising rationale and I find it a brilliant personal learning tool. It allows me to read complex articles and boil them down to the core questions, answers, pros and cons of the various topics. The maps are easy to read for others, and they allow me to make my critical thinking visible. As a result, clients also like these maps because they provide a single integrated place where they can explore topics in an engaging, visual way, instead of working their way through complex whitepapers.
If you wish to jump straight in and have a look around, click here to access my map on Hybrid SharePoint 2013 deployments. You will need to sign in using a facebook or gmail ID to do so. But be sure to come back and read the rest of this post, as I need your help…
But for the rest of you, if you are wondering what my hybrid SharePoint map looks like, without jumping straight in, check out the screenshots below. The tool I am using is called Glyma (glimmer), which allows these maps to use developed and consumed using SharePoint itself. First up, we have a very simple map, showing the topic we are discussing.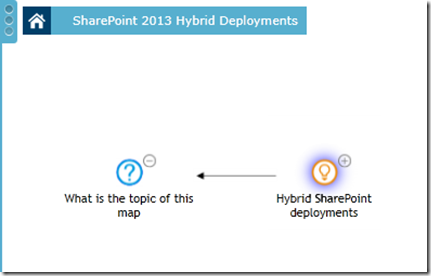 If you click the plus sign next to the "Hybrid SharePoint deployments" idea node, we can see that I mapped all of the various hybrid pros and cons I have come across in my readings and discussions. Given that hybrid SharePoint is a complex topic, there are lots of pros and cons as shown in the partial image below…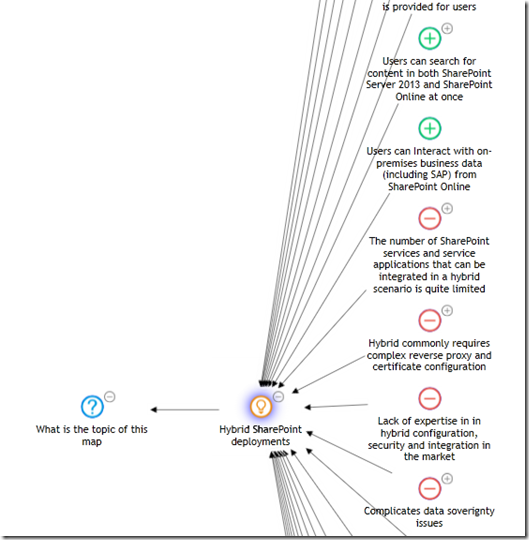 Many of the pros and cons can be expanded further, which delves deeper into the topics. A single click expands one node level, and a double click expands the entire branch. To illustrate, consider the image below. One of the cons is around many of the search related caveats with hybrid that can easily trip people up. I have expanded the con node and the sub question below it.  Also notice hat one of the idea nodes has an attachment icon. I will get to that in a moment…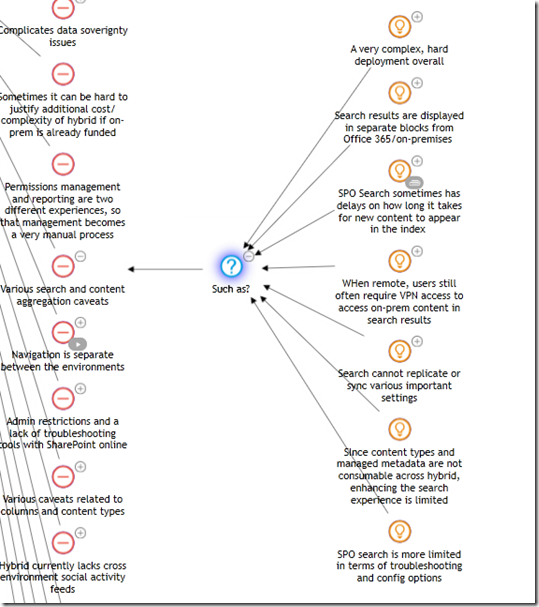 As I mentioned above, one of the idea nodes titled "SPO search sometimes has delays on low long it takes for new content to appear in the index" has an attachment icon as well as more nodes below it. Let's click that attachment icon and expand that node. It turns out that I picked this up when I read Chris O'Brien's excellent article and so I have embedded his original article to that node. Now you can read the full detail of his article for yourself, as well as understand how his article fits into a broader context.

It is not just written content either. If I move further up the map, you will see some nodes have video's tagged to them. When Microsoft released the videos to 2014's Vegas conference, I found all sorts of interesting nuggets of information that was not in the whitepapers. Below is an example of how I tagged one of the Vegas video's to one of my nodes.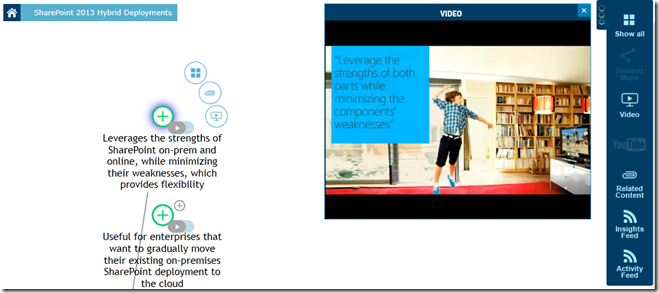 A call to action…
SharePoint hybrid is a very complex topic and right now, has a lot of material scattered around the place. This map allows people, both technical and non technical, to grasp the issue in a more strategic, bigger picture way, while still providing the necessary detail to aid implementation.
I continually update this map as I learn more about this topic from various sources, and that is where you come in. If you have had to work around a curly issue, or if you have had a massive win with a hybrid deployment, get in touch and let me know about it. It can be a reference to an article, a skype conversation or anything, The Glyma system can accommodate many sources of information.
More importantly, would you like to help me curate the map on this topic? After all, things move fast the SharePoint community rarely stands still. So If you are up to speed on this topic or have expertise to share, get in touch with me. I can give you access to this map to help with its ongoing development. With the right meeting of the minds, this map could turn into an incredible valuable information resource to a great many people.
So get in touch if you want to put your expertise out there…
Thanks for reading
Paul Culmsee

Send to Kindle