Send to Kindle
Hi all
If you are not aware, my colleagues and I have spend a large chunk of the last few years developing a software tool for SharePoint called Glyma (pronounced "Glimmer"). Glyma is a very powerful  knowledge management solution for SharePoint 2010/2013, that deals with knowledge that is highly valuable, yet difficult to capture in writing – all that hard earned knowledge that tends to walk out the door in organisations.
Glyma was born from Seven Sigma's Dialogue Mapping skills and it represents a lot of what we do as an organisation, and the culmination of many years of experience in the world of complex problem facilitation. We have been using Glyma as a consultancy value-add for some time, and our clients have gained a lot of benefit from it. Clients have also deployed it in their environments for reasons such as capture of knowledge, lessons learnt, strategic planning, corporate governance as well as business analysis, critical thinking and other knowledge visualisation/knowledge exchange scenarios.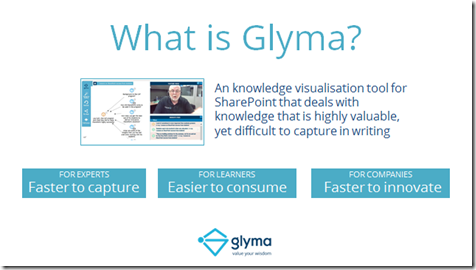 I am very pleased to let people know that we have now decided to release Glyma under an open source license (Apache 2). This means you are free to download the source and use it in any manner you see fit.
You can download the source code from Chris Tomich's githib site or you can contact me or Chris for the binaries. The install/user and admin manuals can be found from the Glyma web site, which also has a really nice help system, tutorial videos and advice on how to build good Glyma maps.
This is not just some sample code we have uploaded. This is a highly featured, well architected and robust product with some really nice SharePoint integration. In particular for my colleague, Chris Tomich, this represents a massive achievement as a developer/product architect. He has created a highly flexible graph database with some real innovation behind it. Technically, Glyma is a hypergraph database, that sits on SQL/SharePoint. Very few databases of this type exist outside of academia/maths nerds and very few people could pull off what he has done.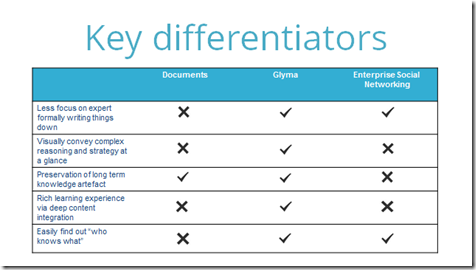 For those of you that use/have tried Compendium software, Glyma extends the ideas of Compendium (and can import Compendium maps), while bringing it into the world of enterprise information management via SharePoint.
Below I have embedded a video to give you an idea of what Glyma is capable of. More videos exist on Youtube as well as the Glyma site, so be sure to dig deeper.
I look forward to hearing how organsiations make use of it. Of course, feel free to contact me for training/mentoring and any other value-add services

Regards
Paul Culmsee

Send to Kindle