Send to Kindle
The content of this blog is essentially material I compiled for training sessions that I ran last year. It was originally PowerPoint, but I hope that this blog version is useful. Some of the legislative stuff is probably now out of date, and it was for an Australian audience – moral of the story is to do your own research!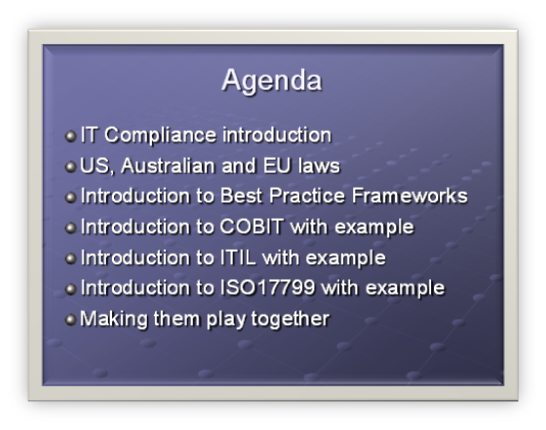 Here is our agenda:
IT Compliance introduction
US, Australian and EU laws
Introduction to Best Practice Frameworks
Introduction to COBIT with example
Introduction to ITIL with example
Introduction to ISO17799 with example
Making them play together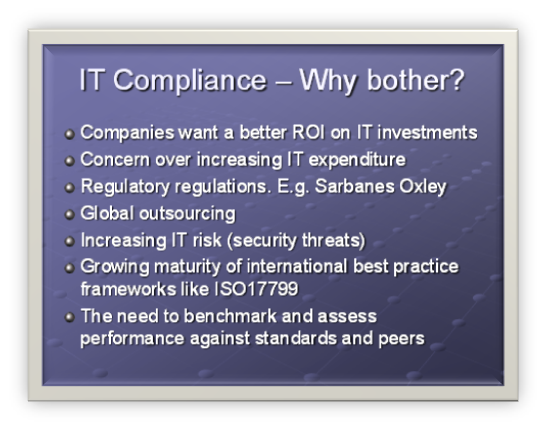 IT Compliance – Why bother?
Companies want a better ROI on IT investments
Concern over increasing IT expenditure
Regulatory regulations. E.g. Sarbanes Oxley
Global outsourcing
Increasing IT risk (security threats)
Growing maturity of international best practice frameworks like ISO17799
The need to benchmark and assess performance against standards and peers
There has been a huge increase in the adoption of IT best practices in the last few years. There are a few reasons for this, but fundamentally its driven by a requirement for to improve the quality and reliability of IT in an organization which in turn is in response to a growing number of regulatory and contractual requirements.
IT best practices are important because:
Management of IT is critical to the success of enterprise strategy.
They help enable effective governance of IT activities.
A management framework is needed so everyone knows what to do (policy, internal controls and defined practices).
They provide many benefits, including efficiency gains, less reliance on experts, fewer errors, increased trust from business partners and respect from regulators.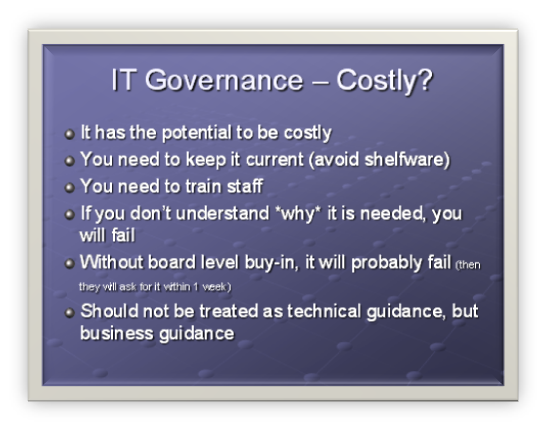 IT Governance – Costly?
It has the potential to be costly
You need to keep it current (avoid shelfware)
You need to train staff
If you don't understand *why* it is needed, you will fail
Without board level buy-in, it will probably fail (then they will ask for it within 1 week)
Should not be treated as technical guidance, but business guidance
There is a danger, however, that any implementation of these potentially helpful best practices will be costly and unfocused if they are treated as purely technical guidance.
Standards and best practices are not a panacea, and their effectiveness depends on several factors.
Firstly they have to be kept up to date. Implementing these standards is not a once off operation that is set and forget. In a lot of organizations it requires a high level of commitment, a change of mindset and importantly a change of habits. To deliver this, staff need the appropriate level of training and sometimes IT departments need to re-organize.
Note: IT departments historically are not well experienced with implementing IT best practice standards, however many other departments within an organization are. We will get into why this has to change (and is changing) further into the presentation.

Standards have to be applied within the business point of view, with the focus on where their use would provide the most benefit to the organization. That primarily is driven by financial considerations, which we will look into a little later.
Note: IT Departments generally are becoming more business focused, despite the relative inexperience when it comes to IT Compliance standards.

So for best practice standards to be effective, all the levels from business management, IT management, auditors, compliance officers, infrastructure and operational staff need to work together to make sure that IT best practices actually lead to cost-effective and well-controlled IT delivery.
The only way to get that level of buy-in and commitment often requires board or senior management level sponsorship. In this model, management have the clout to 'make it happen'.
Best practice standards are most useful when applied as a set of principles and as a starting point for tailoring specific procedures. To avoid practices becoming 'shelfware', management and staff must understand what to do, how to do it and why it is important.
Any implementation of best practice should be consistent with the any existing risk management and control framework. For example many engineering service companies certify to ISO9000/9001 for quality process. We do not want apply principles or practices that are not compatible with this.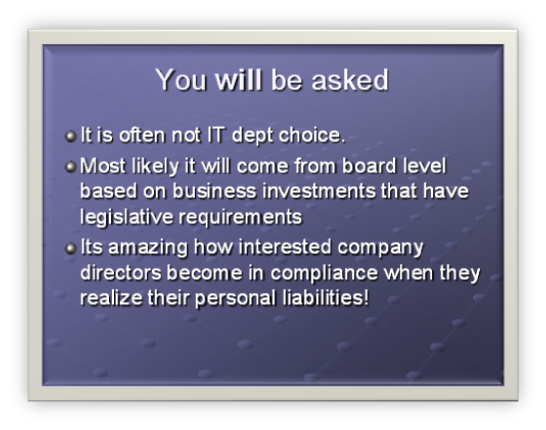 You *will* be asked
It is often not IT dept choice.
Most likely it will come from board level based on business investments that have legislative requirements
Its amazing how interested company directors become in compliance when they realize their personal liabilities!
More often than not, IT departments have best practice standards thrust upon them. This is particularly true for US and UK companies, but increasingly for Australian and EU companies as well. This is the often the least ideal situation, since the scope is probably bigger than you expect, the timeframe is less than you expect and the likelihood of a poor implementation is increased.
The main driver for this trend has been legislative and legal requirements put upon organizations. Often these requirements explicitly define Company directors liability.
Another big driver is competitive advantage. I have personally had two occasions where a client asked for implementation details of ISO17799. In both cases, we were completely unprepared for this and management naively thought I could knock it out in a couple of days!
In the next section we will look at the US legislation that has had the biggest impact on compliance standards in the last few years.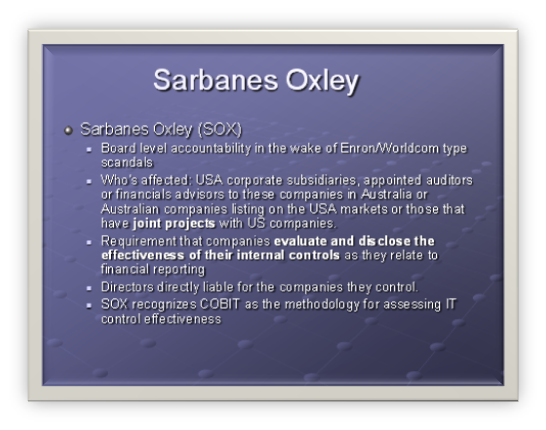 Sarbanes Oxley (SOX)
Board level accountability in the wake of Enron/Worldcom type scandals
Who's affected: USA corporate subsidiaries, appointed auditors or financials advisors to these companies in Australia or Australian companies listing on the USA markets or those that have joint projects with US companies.
Requirement that companies evaluate and disclose the effectiveness of their internal controls as they relate to financial reporting
Directors directly liable for the companies they control.
SOX recognizes COBIT as the methodology for assessing IT control effectiveness
The Sarbanes-Oxley Act is a significant piece of US federal legislation that was signed into law by President Bush on July 30, 2002 in response to corporate failures such as Enron, WorldCom and the many other corporate accounting scandals that have plagued the US in recent years. It is already having far reaching effects on US public companies, their management, auditors and procedures relating to reporting protocols to US regulatory authorities. The Act also applies to Australian companies and nationals with US parents or who have a significant business-to-business relationship with a publicly owned US company. Compliance to the act is compulsory and has significant repercussions for CFO's, CEO's, Board members and Directors of Australian companies. http://www.austrade.gov.au/australia/layout/0,,0_S2-1_1zg-2_2-3_PWB110371167-4_main-5_-6_-7_,00.html
The Sarbanes-Oxley Act's major provisions include:
Creation of the Public Company Accounting Oversight Board (PCAOB)
A requirement that public companies evaluate and disclose the effectiveness of their internal controls as they relate to financial reporting, and that independent auditors for such companies "attest" (i.e., agree, or qualify) to such disclosure
Certification of financial reports by chief executive officers and chief financial officers
Auditor independence, including outright bans on certain types of work for audit clients and pre-certification by the company's Audit Committee of all other non-audit work
A requirement that companies listed on stock exchanges have fully independent audit committees that oversee the relationship between the company and its auditor
Ban on most personal loans to any executive officer or director
Additional disclosure
Enhanced criminal and civil penalties for violations of securities law
Significantly longer maximum jail sentences and larger fines for corporate executives who knowingly and willfully misstate financial statements, although maximum sentences are largely irrelevant because of the ability of judges to declare consecutive sentences under the Federal Sentencing Guidelines
COBIT was developed before SOX, and was given higher prominence when the SOX legislation recognized COBIT as the means to provide the assurance for IT internal controls.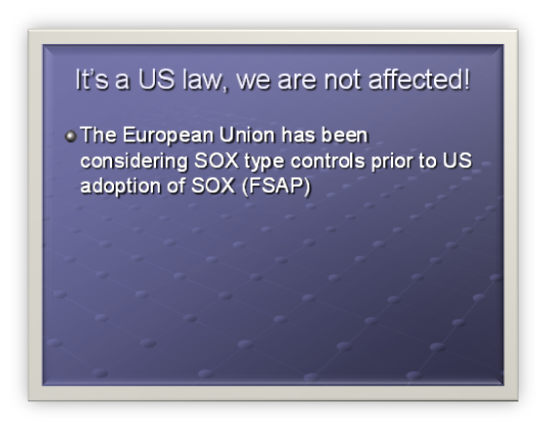 It's a US law, we are not affected!
The European Union has been considering SOX type controls prior to US adoption of SOX (FSAP)
"Even with, or perhaps so, the three tiers of regulatory bodies in Europe, there are no pan-European requirements for specific internal controls. Given this fact, EU demand for SOX equivalent IT solutions is currently more limited than the US. Over the next three to five years, however, as member states fully embrace EU directives and regulations, the demand for country-compatible or regional IT compliance solutions is expected to grow. And, as Europe strives for higher investor confidence, there is the likelihood of additional, and perhaps more specific, requirements to come.

While EU codes are not as prescriptive as US laws, all of the guidance represents common bottom line goals. Companies will benefit if they can leverage internal experience with SOX by speaking to the benefit of technology in achieving compliance goals; that is, how specific applications and systems increase transparency, lock down network security, protect sensitive information, shore up financial reporting and ultimately improve all of the other business processes that support and justify investor confidence.

http://www.itcinstitute.com/display.aspx?id=466

EU Financial Services Action Plan (FSAP)
In June 1998, the Cardiff European Council invited the European Commission to table a framework for action to develop a single market in financial services. In May 1999, the Commission published a Communication containing a Financial Services Action Plan, which the Lisbon European Council endorsed in March 2000.
The FSAP is a set of 42 measures intended to fill gaps and remove barriers to create a legal and regulatory environment supporting the integration of EU financial markets by 2005. It has three aims:
the creation of a single EU wholesale market for financial services and products;
the creation of an open and secure financial retail market; and
implementation of state of the art prudential rules and supervision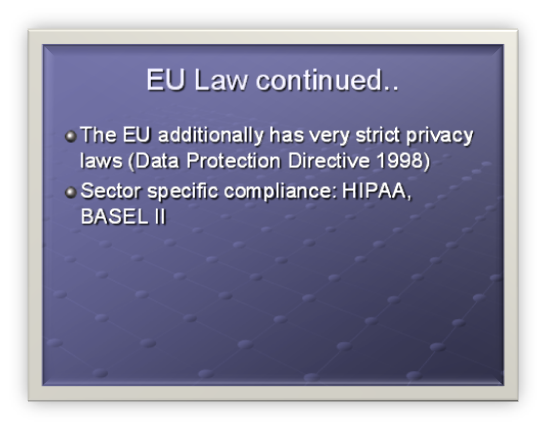 EU Law continued..
The EU additionally has very strict privacy laws (Data Protection Directive 1998)
Sector specific compliance: HIPAA, BASEL II
EU Data Protection Act

Personal data are defined as "any information relating to an identified or identifiable natural person ("data subject"); an identifiable person is one who can be identified, directly or indirectly, in particular by reference to an identification number or to one or more factors specific to his physical, physiological, mental, economic, cultural or social identity;"
The notion processing means "any operation or set of operations which is performed upon personal data, whether or not by automatic means, such as collection, recording, organization, storage, adaptation or alteration, retrieval, consultation, use, disclosure by transmission, dissemination or otherwise making available, alignment or combination, blocking, erasure or destruction;" (art. 2 b)
Principles

Personal data should not be processed at all, except when certain conditions are met. These conditions fall into three categories: transparency, legitimate purpose and proportionality.
Transparency

The data subject has the right to be informed when his personal data are being processed. The controller must provide his name and address, the purpose of processing, the recipients of the data and all other information required to ensure the processing is fair. (art. 10 and 11)
Data may be processed only under the following circumstances (art. 7):
when the data subject has given his consent
when the processing is necessary for the performance of or the entering into a contract
when processing is necessary for compliance with a legal obligation
when processing is necessary in order to protect the vital interests of the data subject
processing is necessary for the performance of a task carried out in the public interest or in the exercise of official authority vested in the controller or in a third party to whom the data are disclosed
processing is necessary for the purposes of the legitimate interests pursued by the controller or by the third party or parties to whom the data are disclosed, except where such interests are overridden by the interests for fundamental rights and freedoms of the data subject
The data subject has the right to access all data processed about him. The data subject even has the right to demand the rectification, deletion or blocking of data that is incomplete, inaccurate or isn't being processed in compliance with the data protection rules. (art. 12)
Legitimate Purpose

Personal data can only be processed for specified, explicit and legitimate purposes and may not be processed further in a way incompatible with those purposes. (art. 6 b)
Proportionality

Personal data may be processed only insofar as it is adequate, relevant and not excessive in relation to the purposes for which they are collected and/or further processed. The data shouldn't be kept in a form which permits identification of data subjects for longer than is necessary for the purposes for which the data were collected or for which they are further processed. Member States shall lay down appropriate safeguards for personal data stored for longer periods for historical, statistical or scientific use. (art. 6)
Basel II

Basel II, also called The New Accord (correct full name is the International Convergence of Capital Measurement and Capital Standards – A Revised Framework) is the second Basel Accord and represents recommendations by bank supervisors and central bankers from the 13 countries making up the Basel Committee on Banking Supervision to revise the international standards for measuring the adequacy of a bank's capital. It was created to promote greater consistency in the way banks and banking regulators approach risk management across national borders. The Bank for International Settlements (often confused with the BCBS) supplies the secretariat for the BCBS and is not itself the BCBS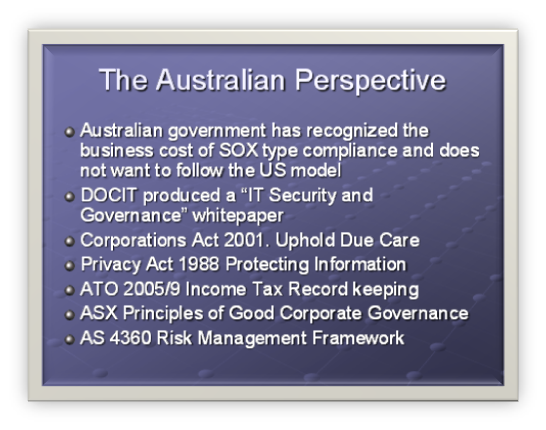 The Australian Perspective
Australian government has recognized the business cost of SOX type compliance and does not want to follow the US model
DOCIT produced a "IT Security and Governance" whitepaper
Corporations Act 2001. Uphold Due Care
Privacy Act 1988 Protecting Information
ATO 2005/9 Income Tax Record keeping
ASX Principles of Good Corporate Governance
AS 4360 Risk Management Framework
"SOX is seen by many organizations as a major cost to profit and manpower" (http://money.cnn.com/2006/03/21/news/companies/compliance_complaints/index.htm)
"A global study from European accountants Mazars, found that close to 20% of EU companies are planning to de-list from the US market to avoid complying and more than half feel the costs outweigh the benefits" http://www.laywersweekly.com.au/articles/9D/0C043D9D.asp?Type=53&Category=853
However this has the potential to impact on the cost of credit for such companies as warned in July 2006 by Moodys. "The cost of capital for public companies in countries that choose not to implement US Sarbanes-Oxley (SOX) type corporate governance rules may soon increase to reflect the additional risk premium resulting from companies and their auditors concealing the true level of audit risk"
At present the Australian government is not planning to introduce SOX type legislation, instead believing that the current regulatory provisions are adequate. Major legislation includes: Corporations Act 2001. Uphold Due Care, Privacy Act 1988 Protecting Information, ATO 2005/9 Income Tax Record keeping, ASX Principles of Good Corporate Governance, AS 4360 Risk Management Framework.
The Department of Communications, Information Technology and the Arts (DOCIT) on behalf of the Information Technology Security Expert Advisory Group (ITSEAG) engaged KPMG to produce a report on the governance of IT and information security matters for the corporate governance needs of Australian companies.
They identified 3 main observations to the risk landscape of ICT.
There is a growing gap between the rate of technology adoption and the rate of controls adoption
Convergence of technologies has led to a convergence of risk, greatly increasing the the potential impact to the business
Increased dependences on technology has greatly increased the potential impacts in the event of failure.
They identified 3 main categories representing the greatest threats to critical infrastructure
Human Error
System Failure
Malicious Software
They then define security governance as "implementing a culture of accountability in order for effective security management to take place". They refer to the ISO17799 as the model for their "Enteprise Security Architecture Model".
Note the use of the term accountability. It is a recurring theme across all best practice standards.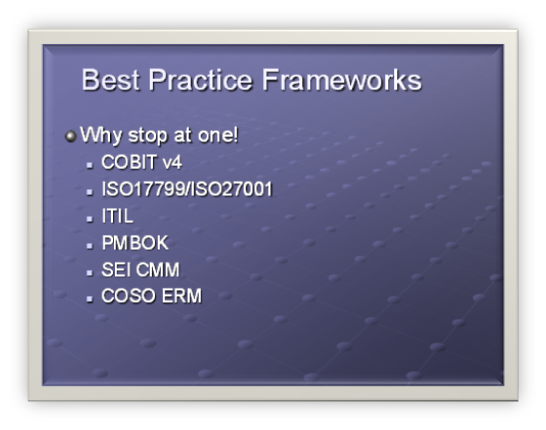 Why stop at one!
COBIT v4
ISO17799/ISO27001
ITIL
PMBOK
SEI CMM
COSO ERM
We have established that there are legislative/business reasons for best practice. But where to start?
ITIL—Published by the UK government to provide best practices for IT service management
COBIT—Published by ITGI and positioned as a high-level governance and control framework. COBIT stands for Control Objectives for Information and related Technology. IT Controls, measures, and processes
ISO/IEC 17799—Published by the International Organization for Standardization (ISO) and International Electro technical Commission (IEC) and derived from the UK government's BS 7799 to provide a framework of a standard for information security management Code of practice for information security management . It Security Best Practice
PMBOK – Project Management Body of Knowledge . Project Management best practice (PMP certification)
SEI CMM – Software Engineering Institute (SEI) Capability Maturity Model. Software Development Life Cycle
COSO ERM – Committee of Sponsoring Organizations of the Treadway Commission. Enterprise risk management — Integrated Framework.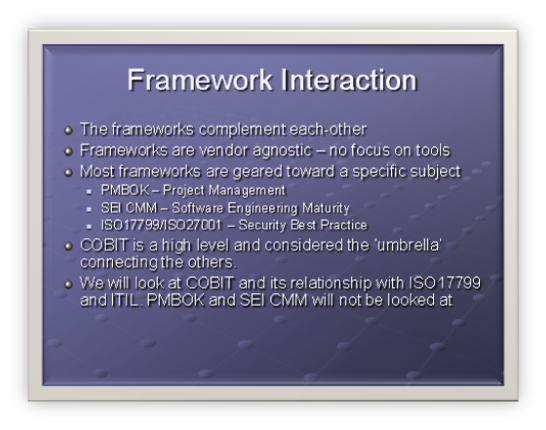 Framework Interaction
The frameworks complement each-other
Frameworks are vendor agnostic – no focus on tools
Most frameworks are geared toward a specific subject
PMBOK – Project Management
SEI CMM – Software Engineering Maturity
ISO17799/ISO27001 – Security Best Practice
COBIT is a high level and considered the 'umbrella' connecting the others.
We will look at COBIT and its relationship with ISO17799 and ITIL. PMBOK and SEI CMM will not be looked at
For the second half of this topic, consult this post.

Send to Kindle